Introduction:
The nonprofits which are not using mobile bidding will need to use silent auction bid sheets to facilitate, the bidding. The bid sheets help organize your auction offerings, track your proceeds, and also can impact the outcomes at the end of the event of your checkout process.
With a shift in nonprofit industries using virtual fundraising. The people will even explore online auction bids and how to bring your silent auction bid sheet digital.
I've compiled a thorough resource for covering the fundamentals of a silent auction sheet in this blog.
Silent Auction bid sheets include the following:
Silent auction bid sheet template.
What is a silent auction bid sheet?
What do you have to include on the silent auction sheet?
How can you bid on a silent auction?
How do you take your bid on the auction sheet digitally?
Silent Auction Sheet Template:
This is an example picture for a silent bid sheet template taken from fundraising archives, This has everything you need to include for your next silent auction.
What is a silent auction bid sheet?
With each package and item or data needed in a silent auction bid sheet, A bid sheet is associated with it. The silent auction bid sheet allows the auction managers to track bids.
When the auction closes, the auction bid sheets are collected from all participants, and the highest-listed bidder is considered the winner for each item. But it is important to keep in mind that it often gets overlooked by nonprofits which is all silent auction sheets are not the same at all.
Certain components are necessary to make sure your silent auction goes as smoothly as possible.
What do you have to include on the silent auction sheet?
The silent auction can be only organized the way your bid sheets are organized. Clear directions and information on every bid sheet will help bidders to ensure and follow the directions. Understanding the items on which they are bidding can minimize their stress at the auction.
The following are some of the components that an auction bid sheet must have:
Bidder Name: In a silent auction it is important to know who is bidding and who is the winner. The bidders can use their name or number provided by silent auction members.
Item Number: it is basic and important that your auction items match the coordinating numbers of the bid sheet in front of the correct item.
Title Name and Description: Always be sure that you have an attractive name and description to make your items stand out and create the feeling of "I have to have it".
Starting Bid: the starting bid is the minimum amount of bid a bidder can bid with. The bidder must have to put down a monetary value equal to or above the starting bid price in an auction.
Value of item: first find out the worth of your auction item and communicate it on your bid sheet. Never underestimate its importance the value of the item is a main factor in the decision-making process for a bidder.
Minimum Rise: it is the minimum amount that the next bidder must have to increase.
Buy Price: it is a guaranteed win price for an item on which the auctioneers will immediately stop bidding and make the bidder the item's winner.
How can you bid on a silent auction?
Whether you are a nonprofit preparing for an auction bid or an auction attendee, everyone wants to know how they can utilize a bid sheet. It is part of a fun, strategy, and the art of winning.
Silent sheets are not complicated and some key steps can increase the interest in running a smooth auction or winning that item that you have been eyeing all night.
How do you take your bid on the auction sheet digitally?
Paper bidding and silent auction bid sheets have been the traditional way of managing silent bid auctions. The rise in mobile bidding and the effects of the COVID-19 pandemic have pretty much changed the auction landscape as we once know it.
Different functions of mobile bidding have resulted in a significant improvement for nonprofits that move from paper bidding sheets to mobile bidding.
Mobile bidding in auction allows users to stay constantly connected to the bidding process while enjoying the actual event. You can have a meal at auction, have conversations, and socialize with others. You can also participate in other fundraising activities which include Live auctions, Donation appeals, and many more while bidding from your phones.
Outbid Notifications:
It is much easier for donors to get distracted from the bidding process. If the donors don't keep their eyes on the silent auction sheet all the time. They might miss being outbid. While mobile bidding your supporters must have to stay connected to the bidding areas through automated outbid alerts.
Countdowns:
An announcement is necessary to tell bidders that the auction is closing very soon, but in the case, of mobile bidders, you don't need to worry about timing. You can easily set a countdown clock that will get displayed on every mobile phone, letting the bidders know exactly how much time is a lift in closing.
Auction Control:
The timing of the opening and closing of the auction is a heavy burden on a nonprofit that has more responsibilities than looking at the clock. Is simple in mobile bidding you just need to set it and forget about it. The nonprofit just need to set the timer that will automatically open and close the auction by taking 5 to 10 seconds pre-event to set the designated times.
Remote Bidding: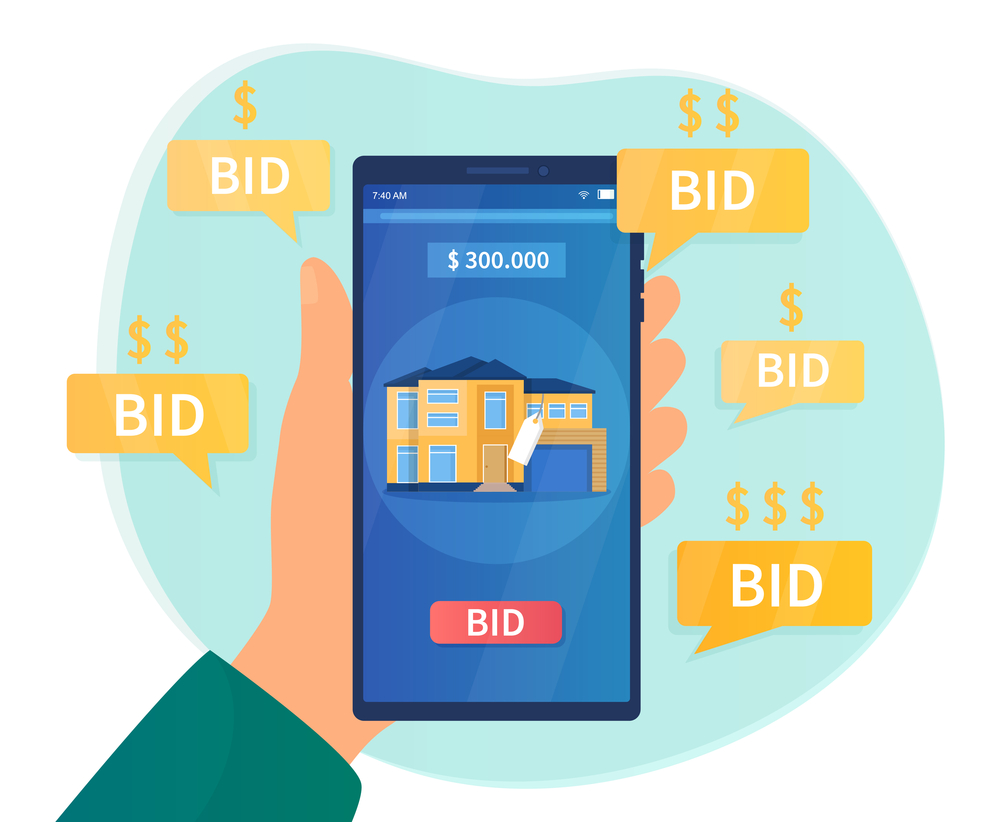 Before the shift, some supporters weren't able to physically participate in an event as a person. So, instead of losing out on the revenue from those that cannot attend the event, mobile bidding enables anyone to bid remotely.
Auction close and check out:
The silent bid auction closes immediately after the time runs out on the countdown clock, and the mobile bidding software automatically calculates the higher bidder for each item in the auction bid. The highest bidder receives a text notification on their mobile phone with directions on how the bidder can pick up their priceless item.
Conclusion:
In conclusion, fundraising through silent bid auctions can be an effective strategy for nonprofits to raise funds for their cause. While traditional paper bidding and bid sheets are still widely used, the rise of mobile bidding has brought about new opportunities and benefits for nonprofits. From outbid notifications to remote bidding, mobile bidding allows for a more seamless and connected bidding experience for donors.