Overview
Toyota Grand Highlander has amazing new opportunities for a family driving experience with three-row seats. The 2024 Toyota Grand Highlander delivers amazing performance with the aforementioned machines for a luxury experience. The spacious cabin is about to create for adults and kids both entertainments. The iconic style vision delivers Toyota luxury platform production.
It has been designed with a large body shape and has been made with strong materials to make sure safety in bad weather conditions. It is also about controlling fuel expenses with its hybrid powertrain motor. Toyota has made all possibilities to merge it with a high-standard performance SUV. It is designed to join the three-row SUV lineup and compete with the already existing three-row vehicles. It is pertinent to mention, Toyota Grand Highlander debuted at the 2023 Chicago Auto Show but Toyota didn't share the SUV details.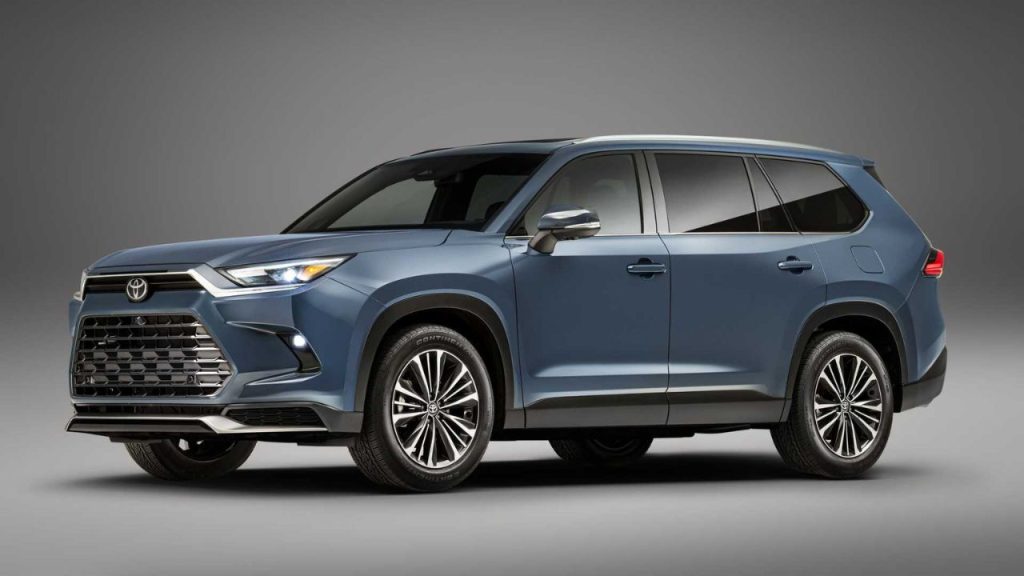 Toyota Grand Highlander Hybrid
Toyota is not in a position to share all technical details about the vehicle and what they have made amazing under the hood. But we have something amazing to share, which is its three engine options starting with a standard turbocharged 2.4-liter four-cylinder without any electrification combination.
The rest of the two are offered with a hybrid motor which means an electrification connection joint to give good fuel efficiency. One is Toyota's 2.5-liter hybrid four-pot and top-of-the-line pyramid with all-wheel support have Hybrid Max technology which is able to make 362 horsepower.
The Grand Highlander Hybrid Max has combined a 2.4-liter turbo with an electric motor which is similar to what Toyota offers in Toyota Crown. The top-of-the-line trim is made to justify the high performance with a sizeable SUV. It can reach 60 mph in just 6.3 seconds. But if you want to spend a low amount you have below two trim options with a Front-Wheel drive system only.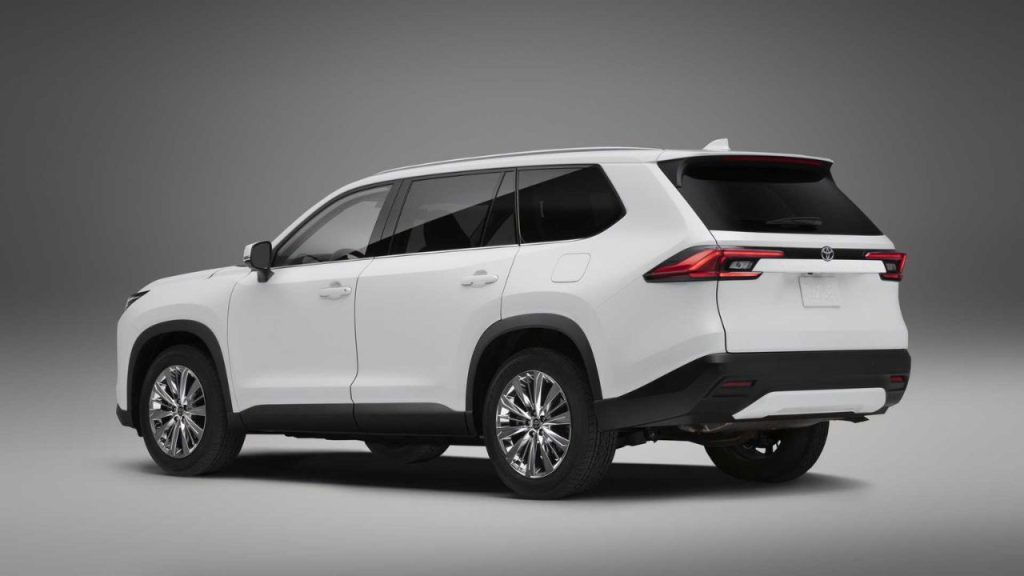 See More: Best Automotive Sound-Deadening Material for Cars
Toyota Grand Highlander Trims
Toyota Grand Highlander is offered in three trim levels XLE, Limited, and Platinum. All three variants have various different options to offer. Only Hybrid Max is offered with an all-wheel drive system, exclusive lower fascia, and dual exhaust.
Toyota has used the TNGA-K platform for Grand Highlander. It has combined astonishing features. Distinctive styling with hammerhead grille, smooth doors, largely devoid of body lines. We have seen there is no slop on the roof of the body.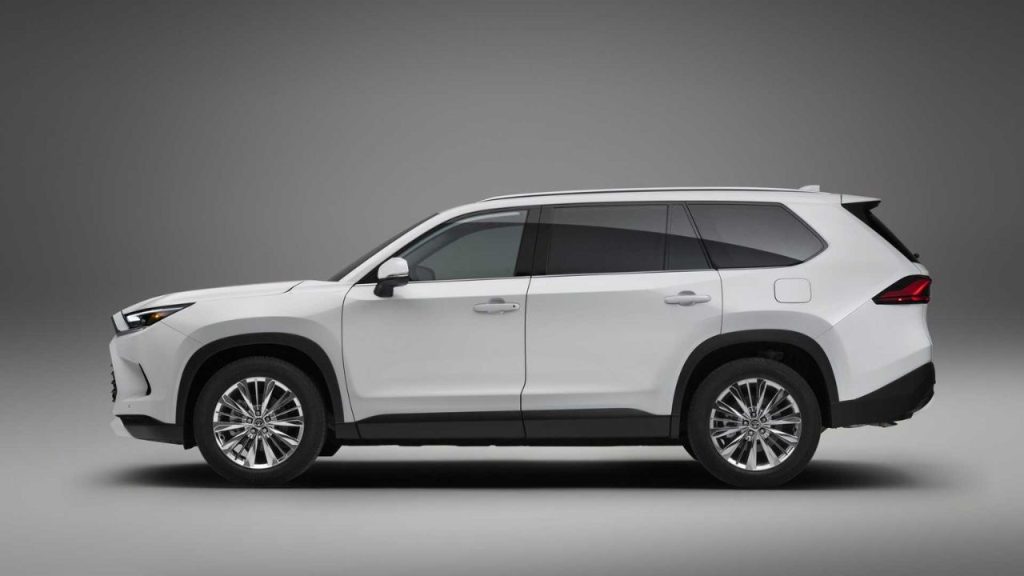 Toyota Grand Highlander Interior
Inside the cabin Toyota has designed a luxury-style cabin for its customers with a spacious space third room. The cargo space is separate which is not affect the third row only for kids. This is a big difference in Grand Highlander it will not consume cargo space with the third row. Meanwhile, the cargo space is separate but by folding the rare seat it is almost 98 cubic feet of space.
A 12.3-inch touchscreen infotainment system is available. The XLE-Trim comes along with power-heated seats, six USB chargers, and a wireless charger. For safety concerns, it has offered Toyota Safety Sense 2.0 a suite of driver assist and safety systems.
The Grand Highlander Limited trim offers leather with heated/vents seats for the front. The second row has heated captain chairs. The other basic interior functions included:
heated steering wheel
configurable second-row storage in the console
11 speakers with JBL sound system
Parking sensors
Power Liftgate
This does not stop here we have more information to share with you. Of course, this must be the best choice for SUV consumers with:
12-inches wheels
LEDs for daytime and fog lamps
1,500-watt power outlet
Panoramic cameras
Traffic jam assist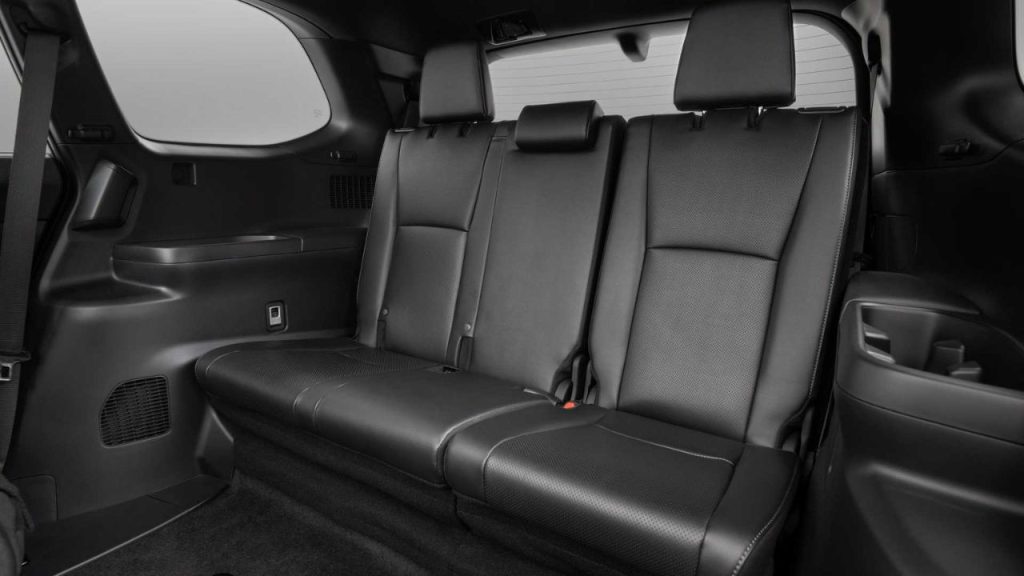 Grand Highlander Tech System
Do not suppose to miss any advanced tech system as Toyota has managed the tech system with all possible ways to make it a more advanced SUV. The amazing functions there is a remote connection which is connected to several function headlights, door locks, or start the engine through a smartphone. The other tech system includes:
Voice control to access various system
Cloud navigation
Destination Assist
Dual Bluetooth connectivity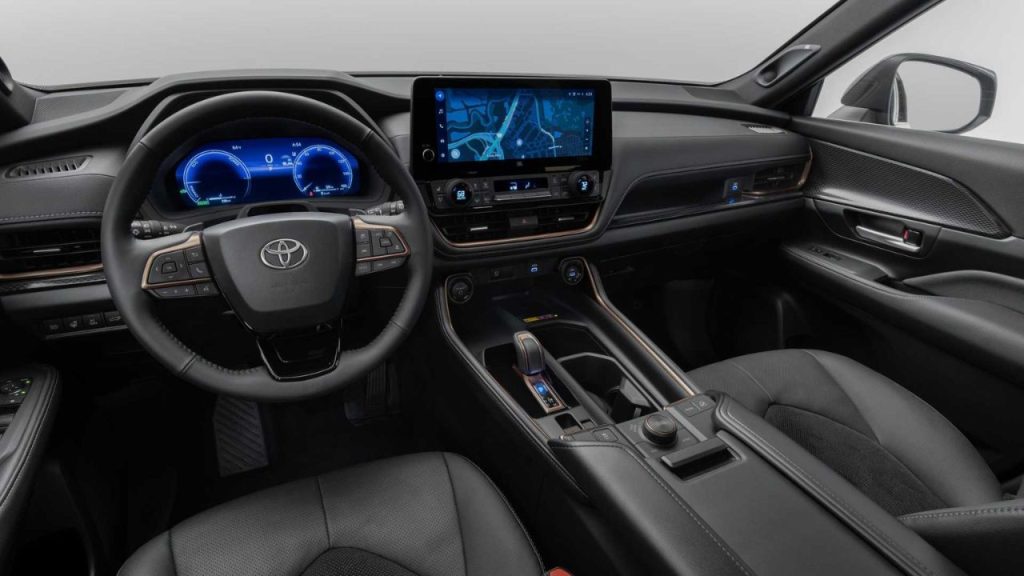 Conclusion
This is all that we have fetched from the Toyota grand launch of its Grand Highlander. The other information may reveal in part or at the time of the real image which Toyota has decided is Summer 2023. Stay connected with us to know more about this grand SUV. Pricing and sale details are still not shared by the company. But it is clear that the price will not same for all trims. Prices will vary according to the trims